River Floods: Brace For Flood Water Damage Not Seen Since 1927
A surge of water not seen since the Great Mississippi Flood of 1927 is forecast in coming days to test the levees lining the Missouri and Mississippi River on its course to the South, adding another element of disaster to a region already raked by deadly tornadoes and thunderstorms.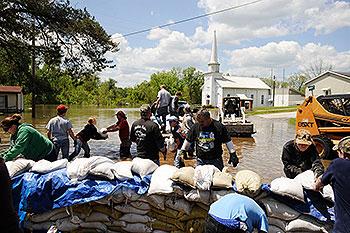 Flooding has forced evacuations in Missouri, Illinois, Indiana and Kentucky.
On July 6, 2011 at 9:39 a.m. CDT, the National Weather Service posted several flood warnings. Flood warnings are in effect for: The Missouri River at Decatur affecting Monona, Burt and Thurston Counties; Missouri River near Blair affecting Harrison and Washington Counties; The Missouri River at Omaha affecting Pottawattamie, Douglas and Sarpy Counties; The Missouri River at Plattsmouth affecting Mills and Cass Counties; the Missouri River at Nebraska City affecting Fremont and Otoe Counties; the Missouri River at Brownville affecting Atchison and Nemaha Counties; and the Missouri River at Rulo affecting Holt and Richardson Counties.
Meanwhile, people in Arkansas and Tennessee are stacking sandbags in an effort to keep floodwaters at bay. The Mississippi River crested Tuesday, May 10, 2011 in Memphis at the highest level since 1937. Downstream areas face potentially devastating flooding as well.
Conditions resulting from the "unprecedented" levels of water in the Ohio River and the unusually heavy rains in the Mid-South could last to mid-June or longer" according to Col. Jeff Eckstein, flood risk management director for Arkansas, Louisiana and Mississippi. Combine that with the flooding also taking place in Missouri, Arkansas, Tennessee and North Louisiana, and you have the makings of a true disaster in the Mid-South. As many as 1.2 million acres of cropland in Mississippi alone could be affected under the worst-case scenario.