Fire Damage Mitigation
When a fire breaks out in a home or commercial building, it produces a complex assortment of gases that seldom burn cleanly. Simple fires are fueled by pure fuels and generally result in complete combustion.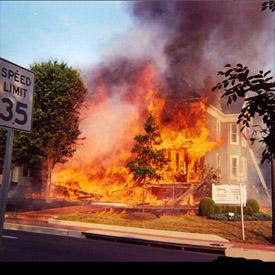 Complex fuels, the most common house fire, are fueled by synthetic materials in carpets, furniture, toys, wiring, etc. and generally result in incomplete combustion and the production of soot and acid deposits. Clean up after such a fire is a dirty job. Fire damage can be extensive and can be a combination of structure, smoke and water damage.
One Call Property Services Inc is Florida certified by the Institute of Inspection, Cleaning and Restoration Certification (IICRC) in water damage restoration, as well as IICRC certified in Odor, Fire and Smoke Damage Remediation. We can handle all levels of damage, from smoke damage from an oven fire or a neighbors property to a large fire causing structural damage. Furthermore, we are licensed and bonded as a general contractor within the state of Florida.
Our Fire and Smoke Damage services include:
Emergency Pre-Cleaning
Emergency Board-Up
Content Pack-Out
Demolition and Debris Removal
Smoke Odor Removal
Complete Interior and Exterior Restoration
Remodeling
Content Cleaning
Furniture Cleaning
Dry-Cleaning Clothing and Draperies
Mold and Mildew Prevention
Complete Reconstruction of Property
Structural Repairs, Framing
Drywall Repair, Texture and Painting
Carpet Repair and Installation
Hardwood Floor Restoration
Cabinetry Repair or Replacement
Kitchen & Bath Remodeling
Interior Plaster, Exterior Stucco Experts
Turn Your Misfortune into a Blessing and Upgrade Your Property Altogether
Commercial, Residential, High-Rise

All Insurance Companies Accepted. We'll Bill Your Insurance Company Directly & $500 Off Your Insurance Deductible